Why EMCO WakeOnLan
Use a Wake-on-LAN tool is ready to work in networks of any complexity and provides flexible scheduling features to enable machines management across entire network.
Enterprise-Ready Solution
The program is designed to work in network of any types, including mixed networks with multiple domains and workgroups. To support different network configuration the program provides multiple WOL delivery methods, so you can choose the one suitable for your network.
Automatic MAC Address Detection
The program is able to detect MAC addresses of network machines automatically. This feature simplifies using WOL significantly, because you don't need to specify MAC addresses of managed machines manually.
Built-in Scheduler
You can schedule a Wake-on-LAN task for automatic execution and let the program to run it automatically at the specified data and time. If you need to repeat the same task, you can schedule it for recurrent execution.
One-Click Operation
It's really easy to wake up remote PCs. Configure groups of machines you need to wake up, create wake up tasks and run them when required with a single mouse click.
This Product is Replaced by EMCO Remote Shutdown
This product is discontinued and replaced by a superior product EMCO Remote Shutdown, which provides all the features and additional functionality.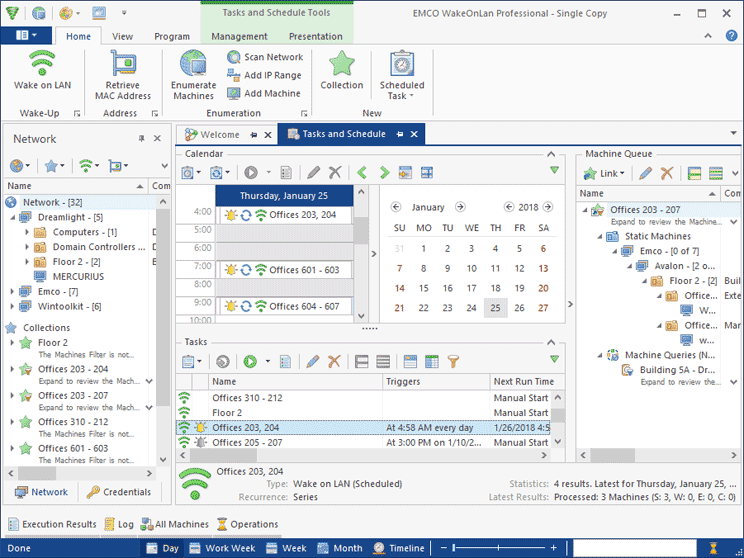 Wake-on-LAN Management Scenarios
EMCO WakeOnLan allows you to use different approaches to wake up network machines remotely, so you can use the one that suites your needs.
Initiate Wake Up Manually
If you need to wake up specific machines immediately, you can select the machines in the program and run the Wake-on-LAN operation. Once the WOL operation is finished, the program checks the status of target machines by pinging them and reports success if machines are replying.
Wake Up Machines on Schedule
The program allows you to wake up network machines at the specified date and time. Create a new task in the program, specify target machines and schedule wake up by selecting time and date. The scheduled operation will be executed automatically at the specified time and you can get a notification by e-mail with the execution status.
Recurrent Wake Up
If you need to repeat the same wake up operation on the regular basis, you can create a recurrent task. Specify target machines in the task and configure recurrence options. A task can be repeated daily, weekly, monthly, on specific days of the week, etc. It is possible to skip task executions on specific days.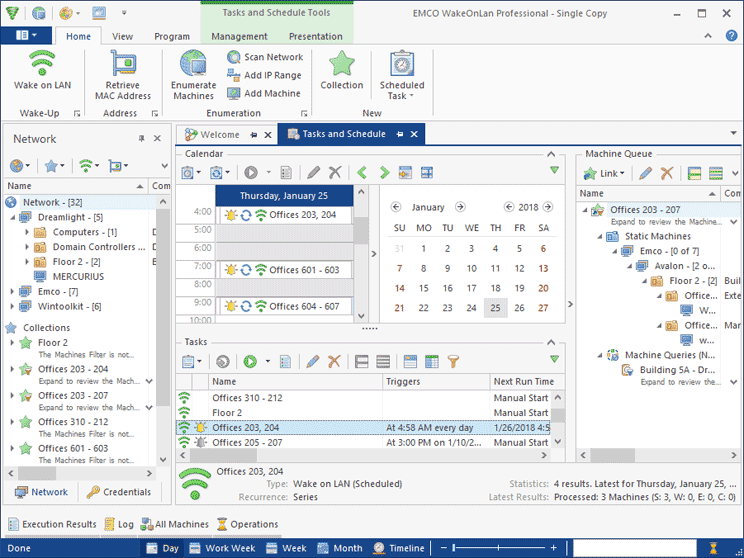 Wake-on-LAN Tasks
WOL Settings Configuration
Machine Queue Configuration
Application Preferences
Alternate Credentials
Changeable UI Skins
How Wake-on-LAN Operations Work
Follow a few steps to enable Wake-on-LAN on remote machines, to configure a WOL operation and execute it on remote machines.
Enable WOL on Remote Machines
To use Wake-on-LAN (WOL) operations you need to enable WOL on network machines. It requires a few configuration changes to be applied on machines you plan to wake up. You need to enable WOL in computer BIOS settings and also enable WOL in network adapter settings. These settings configure the machine to wake up and load OS once a WOL magic packet arrives.
Configure a WOL Operation
Configure machines to wake up. You can specify a list of machines or create a query to report target machines that meet specified criteria. You also need to configure WOL delivery method and enable automatic MAC address detection if required. The program supports different WOL delivery methods depending on the network structure, so you have to select the one suitable for your network.
Run the WOL Operation
Run the WOL operation to wake up target machines immediately or schedule a wake up task. The task can be scheduled for one-time execution, so you can specify date and time and the program runs it automatically. Or you can create a recurrent task to be executed automatically by the program on recurrent basis. The program allows creation daily, weekly, monthly tasks.
Check Results
Make sure that the wake up has been finished successfully. Once the WOL is executed the program pings target machines to detect whether they were started or not and reports the status for each targeted machine. You can configure the program to send the status information by e-mail, so you can see the results without opening the program. You can repeat failed wake ups if required.
Multiple WOL Transmission Methods
Use a WOL transmission method suitable for your network configuration. The program supports broadcast, unicast, directed broadcast, and WOL transmission through the Internet. Using the directed broadcast method you can wake up machines across subnets.
Automatic MAC Addresses Detection
The program detects MAC addresses of network machines automatically using Neighbor Discovery, NetBIOS, WinAPI and WMI, so you don't have to specify them manually. It also can extract MAC addresses from Microsoft DHCP, it works even to turned off machines.
Power Peaks Prevention
Prevent power peaks when waking up a large number of machines simultaneously. The program allows you to configure how many machines can be powered up per second. If you wake up more machines, the program wakes them part with the specified delays.
Wake Up Schedule
Run wake up operations on schedule. The built-in scheduler allows you to run operations automatically at the configured data and time. For recurrent operations that should be performed on regular basis you can create recurrent tasks.
Dynamic Targets
Use a query and a filter to configure target machines for the wake up operations. The program runs the query to detect network machines satisfying the specified criteria. For example, you can create a recurrent task to wake up all machines from a specific organizational unit.
E-Mail Notifications
Configure the program to send the information with wake up task results by e-mail. The e-mail includes the status of the task execution on all target machines, so you can see where wake up was failed. It is possible to specify different e-mail recipients for different tasks.
Run as a Windows Service
The program runs as a Windows service, so it executes scheduled wake up tasks even if there is no an active Windows user session. It allows to reboot the machine where the program works, so it will continue the operation after reboot automatically. No manual actions are required.
Override Settings for Tasks
Customize settings in different tasks if required. You can override global WOL delivery and MAC address detection methods and use custom settings in tasks. It is helpful if the tasks are created to manage machines from the different networks.
Select the Program Edition
The program is available in multiple editions with the different set of the features.
Free Edition
Wake-up of 5 PCs per

operation

Create 2

tasks

Per-user

database

Works as a Windows

program
Professional Edition
Wake-up of unlimited

PCs

Create unlimited tasks
Per-machine

database

Works as a Windows

service

2 concurrent local connections to the

server
EMCO is Trusted by
What happens after my 30-days trial end?
The program can be evaluated free of charge during 30 days. After the end of the trial period you have to enter a license code and register the program to keep using it.
What is the difference between the program editions?
Different editions of the program provide support of the different set of the available features. You can compare the features on
this page
.
What are the limitations of the trial version?
Using a 30-days trial of the Professional edition of the program you can manage 25 remote machines at a time and create 2 tasks. E-mail notifications with wake up results contain trial marks in the footer.
What type of support do you provide?
We provide free technical support by e-mail. If you have a question or problem, you can submit a support request on
this page
.
Explore the Replacement Product
EMCO WakeOnLan is discontinued and replaced by a superior product EMCO Remote Shutdown, which provides all the features and additional functionality.
Remote Shutdown